This section describes the process of interaction between the client and the company. We tried to describe in detail its stages and their specifics. Important to know that all cooperation can be reduced to 3 meetings, include fittings.
---
1. Registration for the visit
Reception of visitors at SHISHKIN Bespoke Atelier is made by appointment. You set the time of your visit by calling or leaving a request on our website. If you have some troubles finding the time for visiting our office, you could use our field service at the address indicated by you at and a convenient time for you.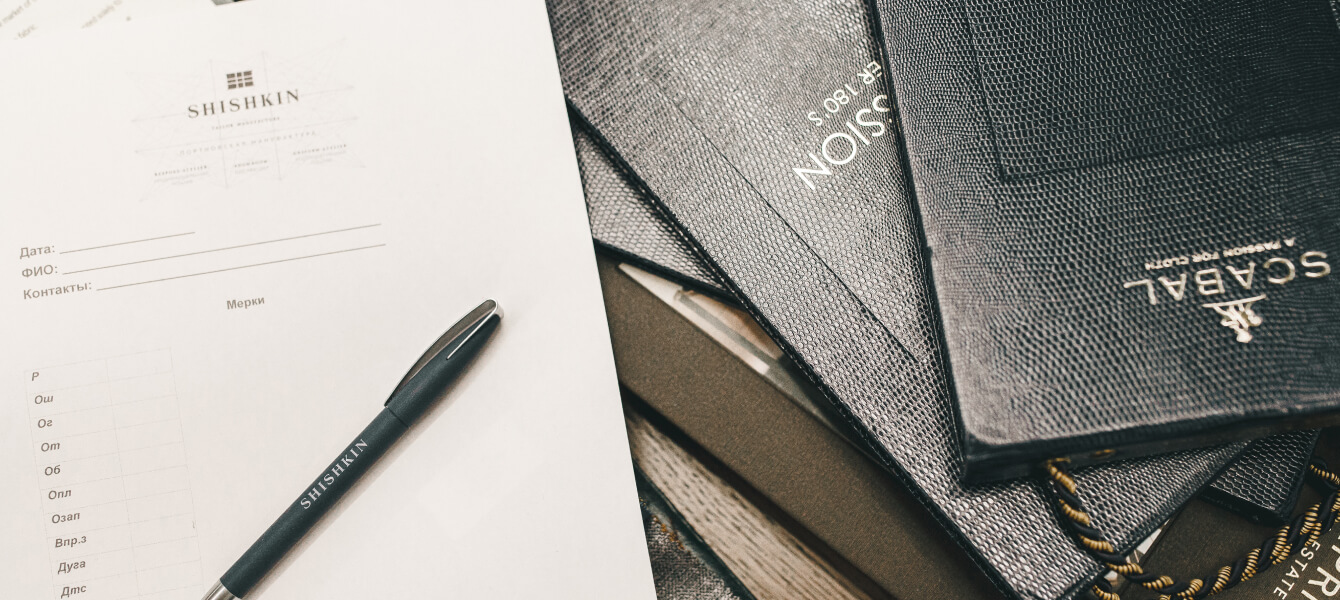 ---
2. Image consulting
In the calm and relaxed atmosphere of our atelier, the designer and tailor will listen to all your wishes — stylistic preferences and the specifics of the daily routine and then they will provide professional image consulting based on:
Personal color analysis
Inspecting your type of figure and body constitution
Buildinga 3-Dbodymodel
As a result, an individual style guide will be created for you. Then client could use it without any help for creating personal style.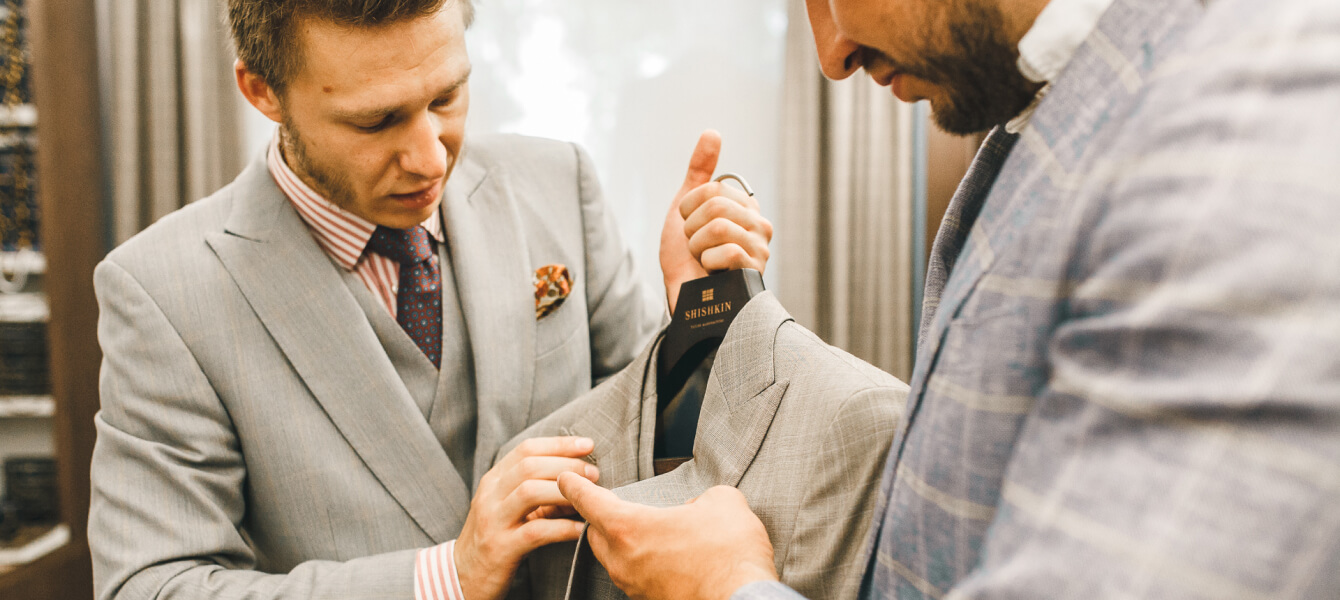 ---
3. Fabric selection
Our atelier present samples of fabrics and catalog of fabrics from 30 leading factories. Our company offer more than 15 000 names of materials and accessories, which allows to choose fabrics satisfying the tastes of the most demanding customers and found optimal option for each customer. It excludes individual tailoring from the same materials. You can be sure that a custom-made product is unique not only in its cut and style, but also in the fabric used.
Bespoke Atelier «SHISHKIN» coordinates with all textile factories directly. Thus, we present high-level materials from manufacturers with prices without intermediary commissions.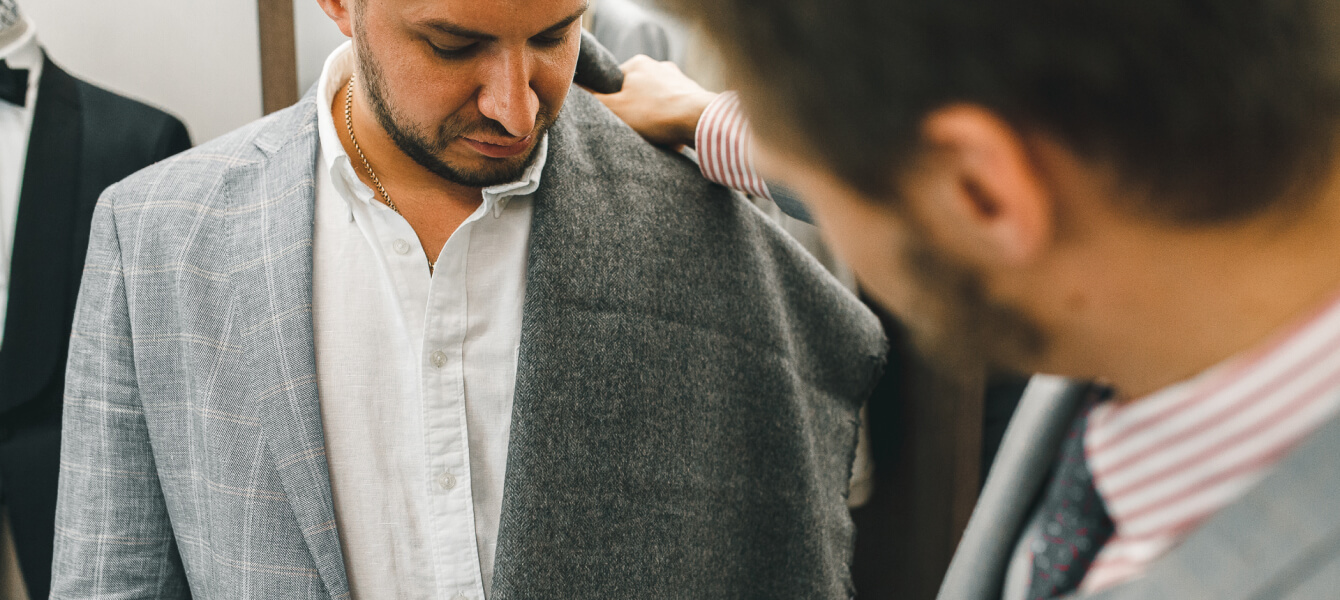 ---
4. Measure taking
Tailor take measures from your body more than 30 times. He will consider the smallest features of your figure. Master will notice specialty of your body's constitution, identify problem areas, try to accent cut advantages of figure, and to hide delicately possible disadvantages.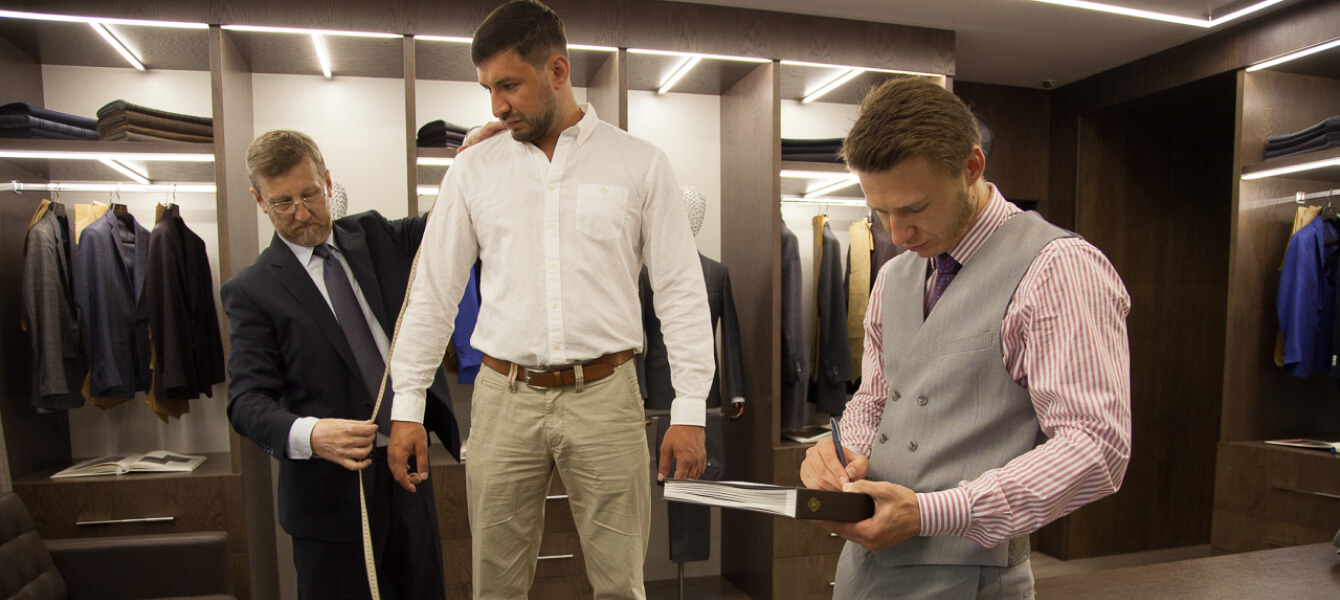 ---
5. Manufacture of patterns set
Manufacture of patterns set is the most difficult and responsible stage of creation a costume. Quality of patterns define not only fit but design and quality of cloth. Your individual results of fitting we keep in our database. You will save a lot of time if you direct to us next time. In fact, you will need to choose the fabric and decide on the style, and then, when ready, try on the product once before the final completion.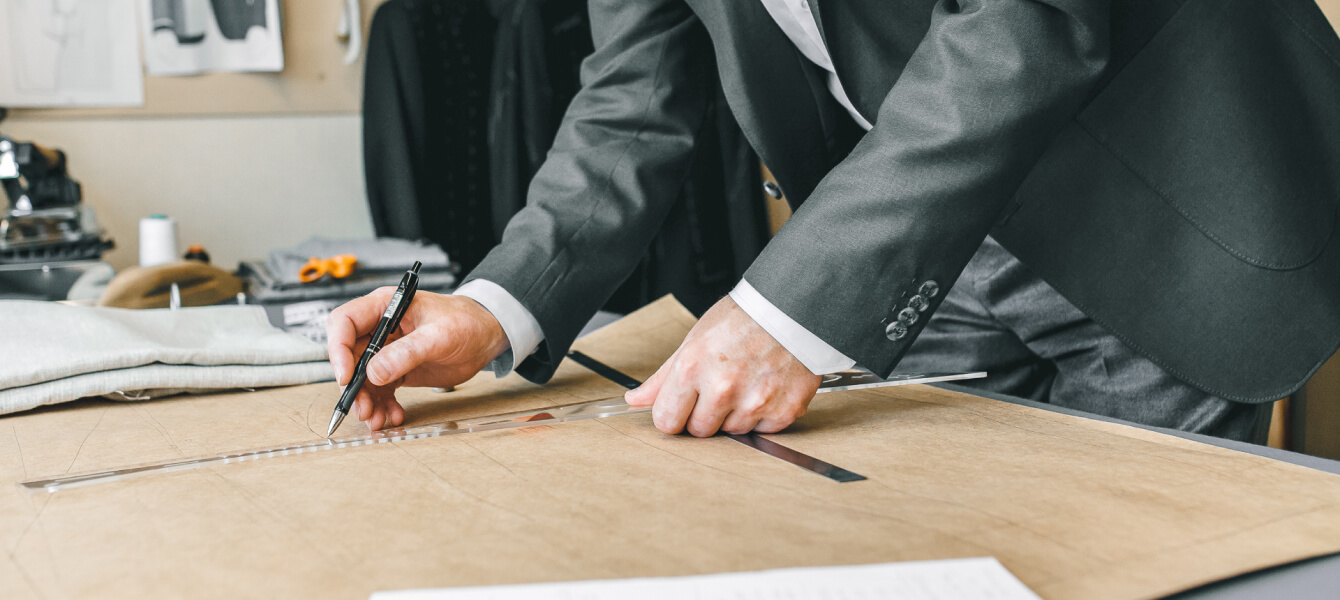 ---
6. First fitting
First fitting is appointed after two weeks since the first meeting. Client will see how chosen fabric and style accept the form of the future product. At this stage, you can change many things, take into account new circumstances and make corrections. This fitting is technical, because tailor first of all correct balance, shrinking, plastic form if it is necessary and spot dozens of other nearly invisible details. At first fitting customer could discuss basic parameters such as width, length, fit and position of parts. All these nuances could be corrected in the second fitting.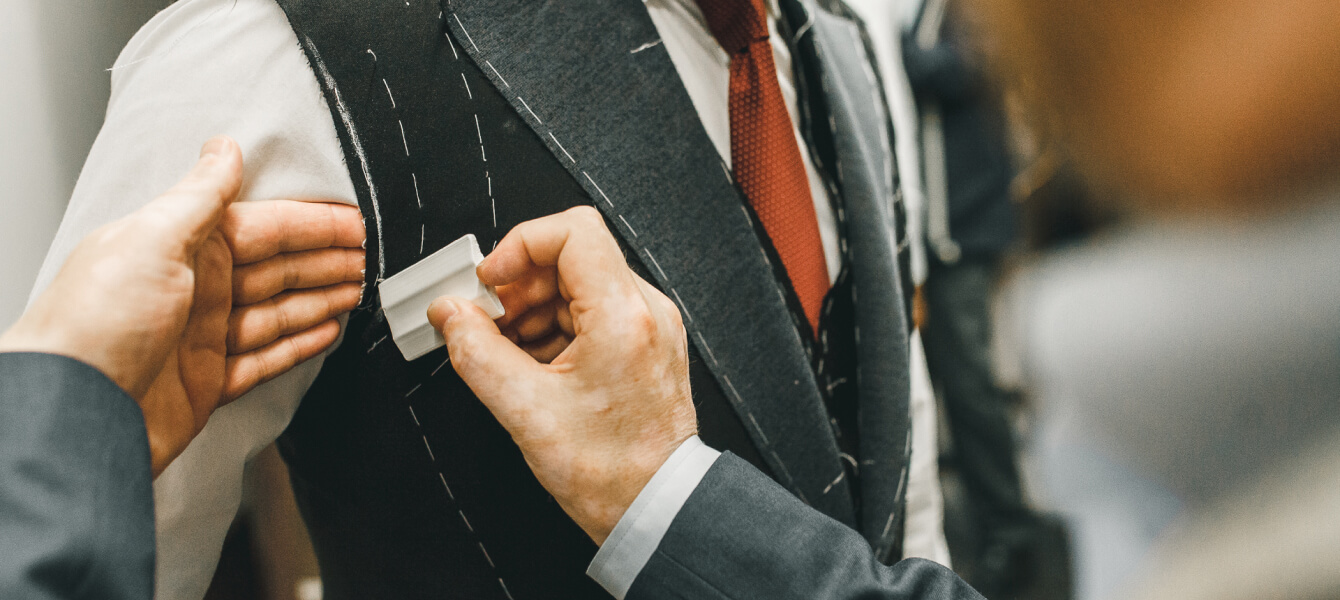 ---
7. Quality control
SHISHKIN Bespoke Atelier carry out professional quality control at all stages of production. We have developed and implemented a unique system analytics program. It completely excludes the risks of technological errors.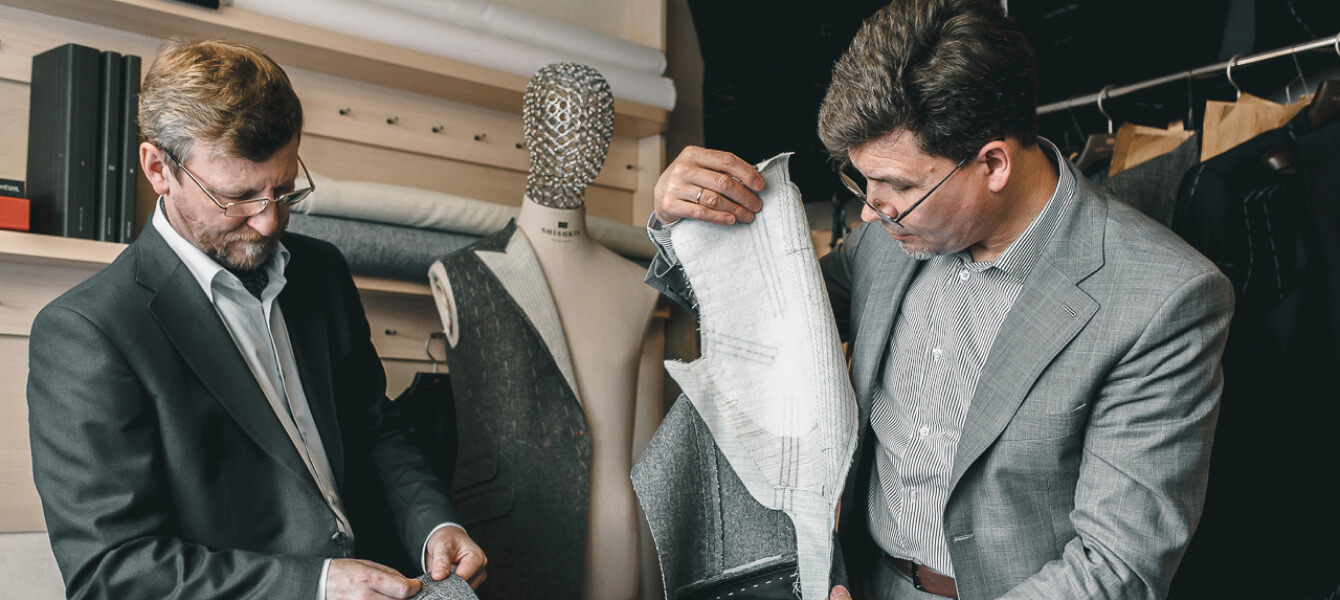 ---
8. Second fitting
Second fitting is appointed after three weeks of the first fitting. The client tries on a product that has already acquired a look. At this stage, customer could discuss details of product and the result of the previous corrects.  At a second fitting client already sees a silhouette of future product, therefore, at this stage final accents are set by choosing accessories and decoration elements.
In cases, that client have exclusively difficult figure or specific style need extra corrects, additional fitting is necessary.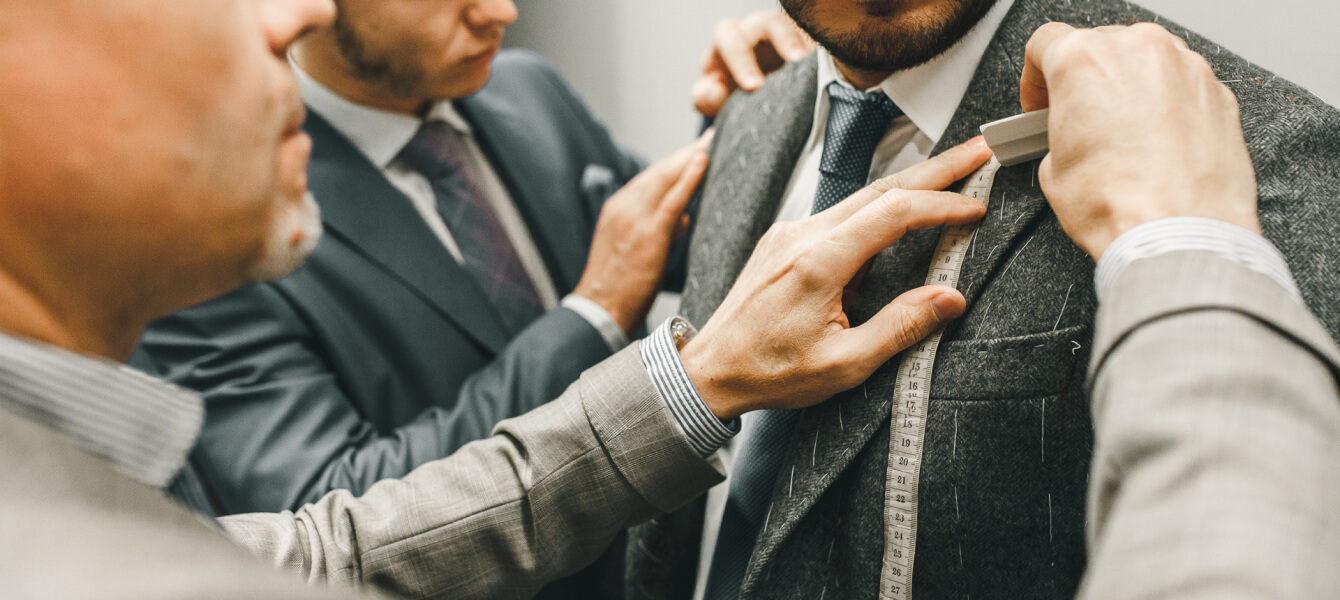 ---
9. Finishing
At the end of the last fitting, tailor needs about a week to complete sewing, making finishing work by hand and final ironing. Only when the client expresses full satisfaction with the result, the work is considered done. You could use service of delivery of complete product if you need it.
Bespoke Atelier «SHISHKIN» provides a three-year warranty on its products. It includes dry cleaning and ironing every six months, operative restoration, correcting a suit in case that customer slightly changes a size.