«There was merely a complete change in his clothes: they were all different, made in Moscow, and by a good tailor; but there was a flaw in them as well: they were much too fashionably made (as always with conscientious but not very talented tailors), and moreover for a man not the least bit interested in fashion, so that, taking a close look at the prince, someone much given to laughter might have found good reason to smile».

F. Dostoyevsky «The Idiot»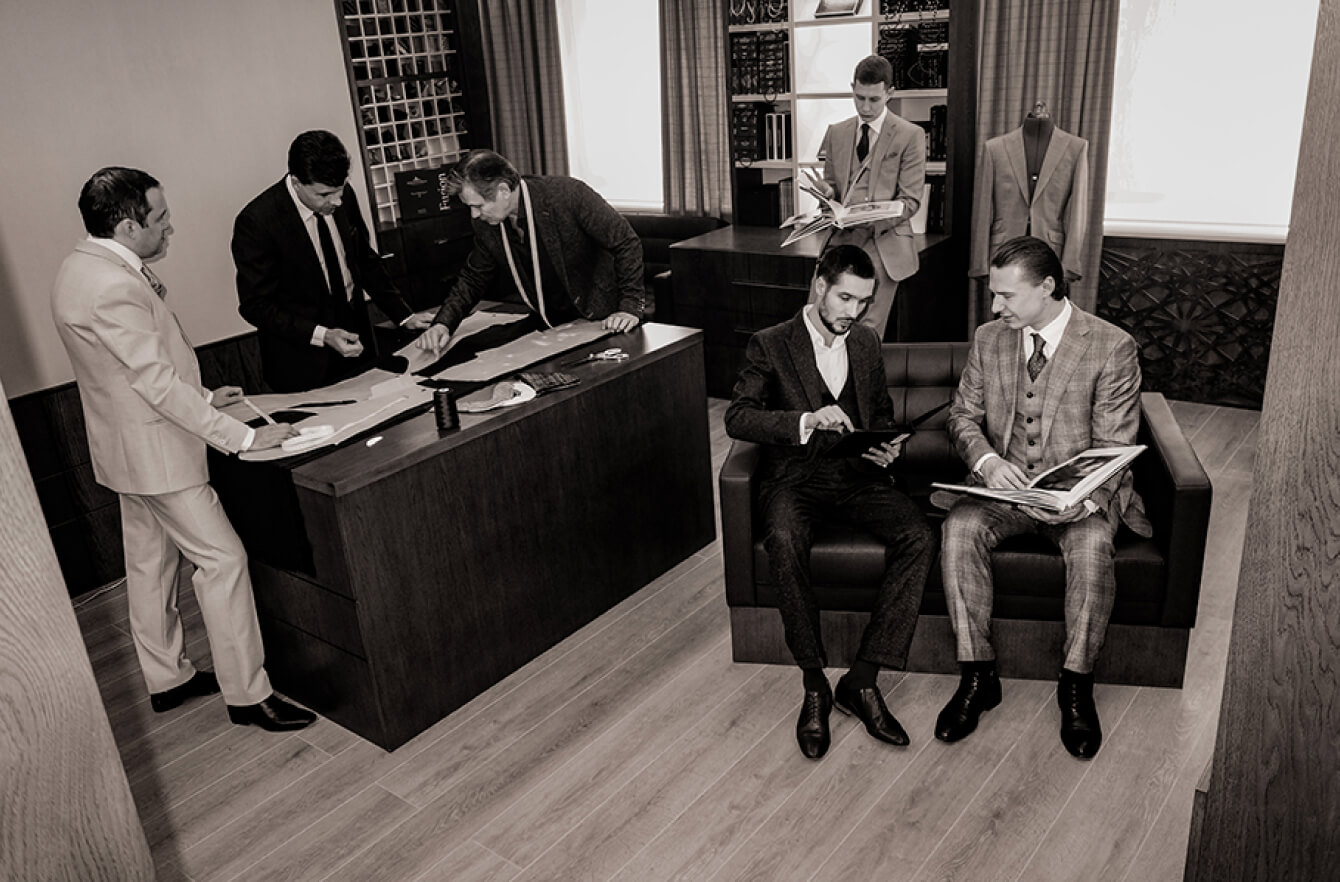 «Tailoring Manufactory «SHISHKIN» is actively evolving. We work in the men's fashion industry for the past ten years. We have three enterprises, each of them provides complex services: developing, manufacturing and delivering clothes and accessory collection for order:
Bespoke Atelier is an individual tailoring. Handicraft association. Our company provides individual sewing of elite classic clothes for men using traditional technology Bespoke Tailoring.
МТМ ATELIER is Customize sewing clothing factory with full-cycle production. Our company makes customize production corporate clothes and accessories in classic and casual styles.
Uniform atelier is cooperate sewing innovative clothing factory with comprehensive development, production and supply of the industrial fashion line and accessories in sports and casual styleAll enterprises have full-cycle production and are located in Yekaterinburg. Each one specializes on various clothing and accessories groups (classic, casual, sport) with individual production specific (hand-made, mass production) and ddifferent service approaches (Individual, customize, corporate tailoring).
The result of this are unlimited developing and creating facilities of all types of the clothes and accessories both in a small series and in industrial collections. The cornerstone in the policy of the company is to achieve the optimal balance between price, quality and duration of the projects.
Quality is the main purpose both in terms of level service for client, manufacturability and operability of the finished product.
The main consumer is the male audience, in the interests of which all our enterprises work. That significantly increases the loyalty of the target audience.
GC Tailoring Manufactory «SHISHKIN» keeps balance between traditions of tailor's craft and innovations in modern technology of fashion industry.
Bespoke atelier masters produce individual sewing of classic man's clothes, using traditional clueless technology «bespoke tailoring» which is improved over the past two hundred years by qualificated tailors worldwide.
At that time factory uniform atelier uses advanced achievements of sewing industry and develops unique software for fashion industry with leading scientific and production centers of the country.
In 2018 share of export orders in total turnover of the company amounted to just over 30%. We plan to double these performances. This is an accent that our products and services are competitiveness not only in domestic but also in international market.